If you've been to a lot of weddings, then you know they can get a little wild. From décor and food to the wedding dress itself, often things are very big, flashy, and over-the-top, and a lot of couples delight in that kind of dramatic flair. And you know what? That's great. It's your wedding, and if you want it to be a grand spectacle, that's something that should only be encouraged. However, with the recent trends, a lot of brides are actually looking for something simpler. Minimalism is becoming popular again, and if you're not the kind of couple who likes to make a big fuss, it could be just the kind of direction to take for your big day.

Of course, simple doesn't mean boring in any way, and if you want to embrace minimalism there are plenty of ways to do it and still make everything look entirely lovely and special. Wondering how to organize your wedding and keep it all sleek and elegant? Then take a look at our tips.
Venue
You don't need a huge, spacious venue if you're not inviting a lot of guests—it's only going to look awkward and sparse. The size of the location is an important aspect, and for a minimalist wedding, the only other thing you need to worry about is the atmosphere it can offer you. Can the lighting give you that romantic ambience that will relax everyone and make you all seem closer? Are the acoustics good enough to help carry the music through the whole room? Anything from a barn house to a ballroom works, but make sure there aren't too many tacky adornments spread around. Keep it simple with a few flower arrangements and candles spread on every table.

Photo credit - Ben Yew Photography
Design
While there's no need to eschew colours completely, you want to keep it simple and use a good base—cream, white, dove grey, or even black if you want something a little unusual. Pair this with one brighter colour of your choice and make everything match that theme. Solid-colour tablecloths are a good way to make things look elegant, and you can break the monotony by using luxurious dishes and cutlery to bring in a bit of sparkle. Organic accents or copper and brass details can also be a great idea.

Photo credit - Rebecca Yale Photography
Bouquet and Dress
People are usually surprised to see a simple bouquet, but it generally thrills everyone just because it looks so beautiful. Make sure there's plenty of greenery, but otherwise stick to only one colour. It's on you whether this colour will match the rest of the décor in the room, or be something totally new and unusual, the only stand-out. It's also totally okay to have different kinds of flowers. For example, roses, peonies, and hydrangeas can all be pink, so you'll be sticking with the theme.
Elegance lies in simplicity. If you take a look at the wedding dresses of real-life royalty, you'll realize that Meghan Markle, Kate Middleton, and Princess Eugenie all wore dresses that had clear, solid cuts, and yet were completely spectacular. Minimalism can give your attire an aura of refinement, it can show that you don't need much to stand out. Find yourself a beautiful Oleg Cassini wedding dress and pick a cut that accentuates your natural beauty above all else. Something like this is a marking of true taste and very clever fashion skills because you're basically telling the world that you're perfect in your gorgeous, raw beauty.

Photo credit - Sarah Falugo Weddings
Accessories
Follow the theme of simplicity and keep your accessories subtle and understated. A pendant necklace or a headpiece with pearls and lace details could be more than enough, but you can also pick a shimmery brooch or a pair of diamond earrings that will show off your delicate ears. Keep the veil simple as well, but when it comes to the shoes, feel free to pick something classy and even a bit glamorous—here you're totally allowed to have fun and pick a pair of stunning sandals that elongate your legs and make you feel sexy.

Photo credit - The Brenizers
Cake
This is something people rarely remember to pay attention to, and yet it ties everything together nicely. The cake can be just as simple as the décor itself, and you can actually match the colours of it to the colours of the tablecloths, or other ornaments in the room. Besides, the only thing people will remember about the cake is its taste, so make sure you're bringing something delicious to the table.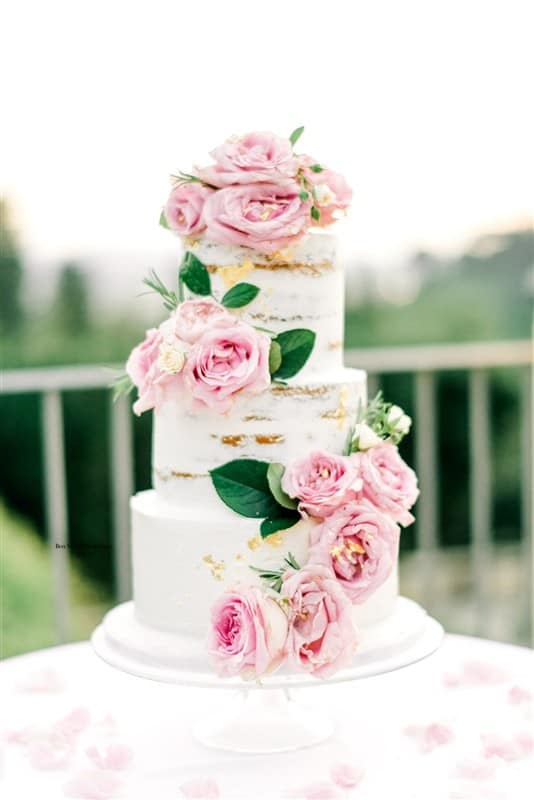 Photo credit - Ben Yew Photography
The easiest way to pull off minimalism is to simply trust your taste. You don't need much to make things beautiful, especially not yourself, so simply find a few things that will enhance that.
-Sophia Smith (guest blogger)
Get in touch with the wedding stylist team at Matthew Oliver Weddings to make your dream wedding a reality.