You only have to take a quick look at our gallery to find out we live and breathe outdoor weddings! Whether that's beach-side in Spain, among the rolling Tuscan hills or at home in the UK, it's truly an unmatched experience for your big day. If you're set on the flexibility, natural beauty and relaxed atmosphere of an outdoor wedding but are still tossing up the home vs abroad option we've got you covered. Hopefully, the option to travel again isn't far away and weddings numbers will soon be able to increase. Inspired by Sainsbury's outdoor wedding guide and packed with firsthand-experience - we hope we can help you make the big decision! 

Travel
Photography by Ben Yew
The clue's in the name of an abroad wedding; your guests will need to travel! This will mean additional time off work, the expense of flights and accommodation (unless you plan to host your guests for the duration at your venue – a popular setup for smaller weddings). We recommend floating the idea past your friends and family early to get an impression of whether your nearest and dearest are happy to travel. They might be delighted to combine it with a summer holiday. Plus, if you plan stag and hen parties for the night of arrival, you can combine the two into one trip. 
Even for an at-home wedding, travel is something to think about. Is your venue very far from your hometown? Are there plenty of places to stay nearby or will you put on a bus to transport your guests? If your reception is at a different location, is it easy for guests to get between the two?
The Venue
Photography by Ben Yew
Abroad weddings present more of a logistical challenge when it comes to finding your venue, but it can be worth it. If you have a country or specific area in mind, we can help narrow down your search to perfectly meet your dream aesthetic, capacity, and budget. We recommend coming up with a shortlist in advance and then taking a weekend or week-long trip to view them all in person. 
Visiting and narrowing down venues is a little easier at home when you can work around your own schedule. When it comes to outdoor weddings though, there's often the fear of bad weather and the wet weather shelter option isn't always the backdrop you dreamed of. Let us know your exact vision or have a look through our portfolio for ideas if you're starting from scratch. The UK is filled with stunning estates, formal gardens and historic castles, and we're confident it can play backdrop to your dream outdoor wedding. 
Décor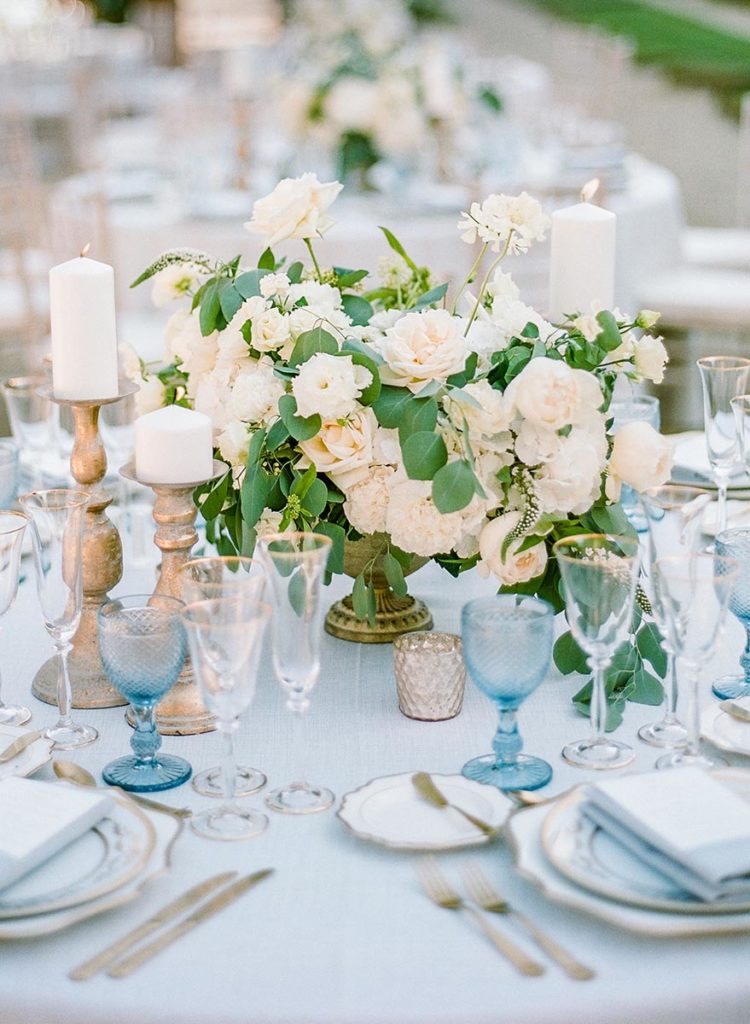 Photography by Rebecca Yale
If going abroad, you might be limited in what you can take with you but you can make time to pick-up items when you arrive. You can also work with vendors near your chosen venue. Luckily, that's where we come in! One of the big pulls to an abroad wedding is the promise of beautiful scenery and reliable sunny weather (mostly!) so you can take a simple approach with candles and foliage and let the location speak for itself. Or, you can frame the view with ethereal florals, fairy lights and drapery. 
The same approach goes for home weddings. You might just be able to be a bit more hands-on with the details, such as preparing place cards and favours. 
Creating a mood board of your style of venue – be it barn, castle, walled garden or beach, is a great way to start narrowing down all of the décor elements you love. 
Get in touch to start sharing ideas!
The dress
Photography by Ben Yew
A wedding in Europe (or further afield) in the height of summer is hopefully gloriously sunny. Check out average temperatures before booking and avoid the peak of the heat, or begin the ceremony after the hottest part of the day. You'll have to think about your dress in the heat – heavy satins and structured sleeves, although beautiful, can feel suffocating in the heat. Opt for light silk organza or chiffon and a flowing silhouette to keep you cool. Don't forget your SPF!
The opposite issue may be on your mind for an at-home outdoor wedding, but don't let it put you off! There are so many beautiful options for layering or staying warm on your wedding day. Capes are very popular. You can also opt for heavier more structured fabrics and silhouettes with long sleeves. Or go rock and roll bride with a personalised leather jacket that you can take off at any time!
We'd love to discuss your wedding plans. Contact us today to begin bringing your dream day together.

Written by Alex of Sainsbury's Bank Blog