Howdy my lovely moers!
How was your weekend?
So today I found this quote from Nora Roberts, and thought I would post it, because we all need to listen to the meanings behind it when planning a wedding!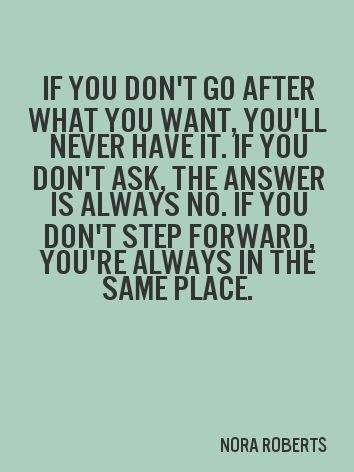 Here are my definitions behind the quote...
If You Don't Go After What You Want, You'll Never Have It!
Everyone has had an idea of their wedding if it's from a young age, or from when they've finally found the right person!  It would be a lie if you didn't, even men!
This saying to me tells me you need to stay true to your ideas and no idea is a bad idea!  Don't let anyone get in your way and ruin those dreams you've had about your wedding.  Follow them instead and your wedding will be what you've always thought of!
If You Don't Ask, The Answer is Always No!
This is what drew me to this inspirational quote and why I wanted to share it!  We don't asked enough questions when we get married, we are lead by the venues, suppliers and even planners when it comes to making decisions!  Please don't let this happen, if you want something in particular you need to say it!  Especially if you're upset about something.  I even do this as a planner, I know I should ask more questions!
If You Don't Step Forward You're Always in the Same Place!
This is to say you need to be in control and make more decisions if your planning your wedding without a planner!  Don't um and r because Aunt Bessy doesn't like fish do what you want and create alternative ways around that problem!  In some cases be brutal, be the bride/groomzilla as you need to remember it's your wedding and no one else's, so don't be scared to put Aunt Bessy in her place!
I was just going to social this quote, but then after thinking about it I thought I would share how I took it!
Thanks for popping by and I hope you have a great week!
Love,
Matthew Oliver Wedding and Events Planner xx