When you're prepared to say those special words: "I do" to your future companion, you'll want to start thinking about where to have your big day.
If you've set your heart on getting married in Italy, your next big choice will be the wedding venue. But with so many factors to consider, where do you begin?
In the following list, we explore the top 15 luxury wedding venues for couples seeking to tie the knot in Italy.
Luxurious Villas
Villa Balbiano, Lake Como
Nestled along the picturesque shores of Lake Como and the Italian Alps, Villa Balbiano dates back to the 16th Century and exudes timeless elegance and charm. This enchanting venue boasts stunning gardens and a magnificent lakeside view, providing a romantic backdrop for your wedding celebration.
The venue even boasts a private boat mooring, meaning you and your betrothed can make a romantic entry from the lakeside.
The villa itself is a masterpiece of Italian architecture, featuring opulent interiors and luxurious 5-star amenities. With its exquisite blend of history and lakeside sophistication, Villa Balbiano offers a truly unforgettable wedding experience.
Villa Cimbrone, Ravello
Perched high above the Amalfi Coast, Villa Cimbrone is a captivating 12th Century hotel and wedding venue that exudes grandeur and romance. Its breathtaking views of the Mediterranean Sea and lush gardens create an idyllic setting for a fairytale wedding.
Villa Cimbrone has a rich history with renowned guests including aristocracy, famous writers and artists throughout history. You'll be sharing its iconic 'Terrace of Infinity' view with names such as Winston Churchill, T.S Eliot, Greta Garbo and D.H Lawrence.
The villa's historic architecture and elegant terraces provide an enchanting backdrop for both ceremonies and receptions.
Villa Aurelia, Rome
With its magnificent gardens and panoramic views of Rome's skyline, Villa Aurelia offers a truly magical setting for your wedding day. This 17th-century villa combines classic Italian charm with refined elegance, providing a romantic and exclusive atmosphere for your celebration.
This Baroque villa is set on the highest point within the ancient walls of Rome, meaning it has some of the finest views of the famous city.
Whether you choose to exchange vows in the charming loggia or dance the night away under the stars in the villa's enchanting gardens, Villa Aurelia promises an unforgettable experience for you and your guests.
Villa Piliniana, Lake Como
Nestled amidst the serene beauty of Lake Como, Villa Piliniana is the epitome of Italian charm that promises an extraordinary wedding experience. This 16th Century Palazzo showcases a harmonious blend of classic architecture and modern luxury.
The villa itself is set within 18 acres on the shores of Lake Como and features a private boat dock, helicopter landing pad, games room spa and exquisite gardens.
Its magnificent breathtaking lake views create an enchanting backdrop for your special day. From intimate ceremonies in the garden to lavish receptions in the elegant ballroom, Villa Piliniana offers a truly enchanting setting for a memorable wedding celebration.
Villa Treville, Positano
Perched on the cliffs of Positano, Villa Treville is a luxurious and exclusive wedding venue that epitomizes coastal elegance. Its panoramic views of the sparkling Mediterranean Sea and private beach access make it a dream destination for couples seeking a romantic seaside wedding.
The villa exudes style, with the refurbishment of the entire property masterminded by Franco Zeffirelli, the opera and movie maestro who lived on the estate for 35 years.
The villa's stylish interiors, lush gardens, and impeccable service combine to create an unforgettable experience for you and your guests. Let the breathtaking beauty of Villa Treville set the stage for a wedding that will be cherished forever.
Italian Heritage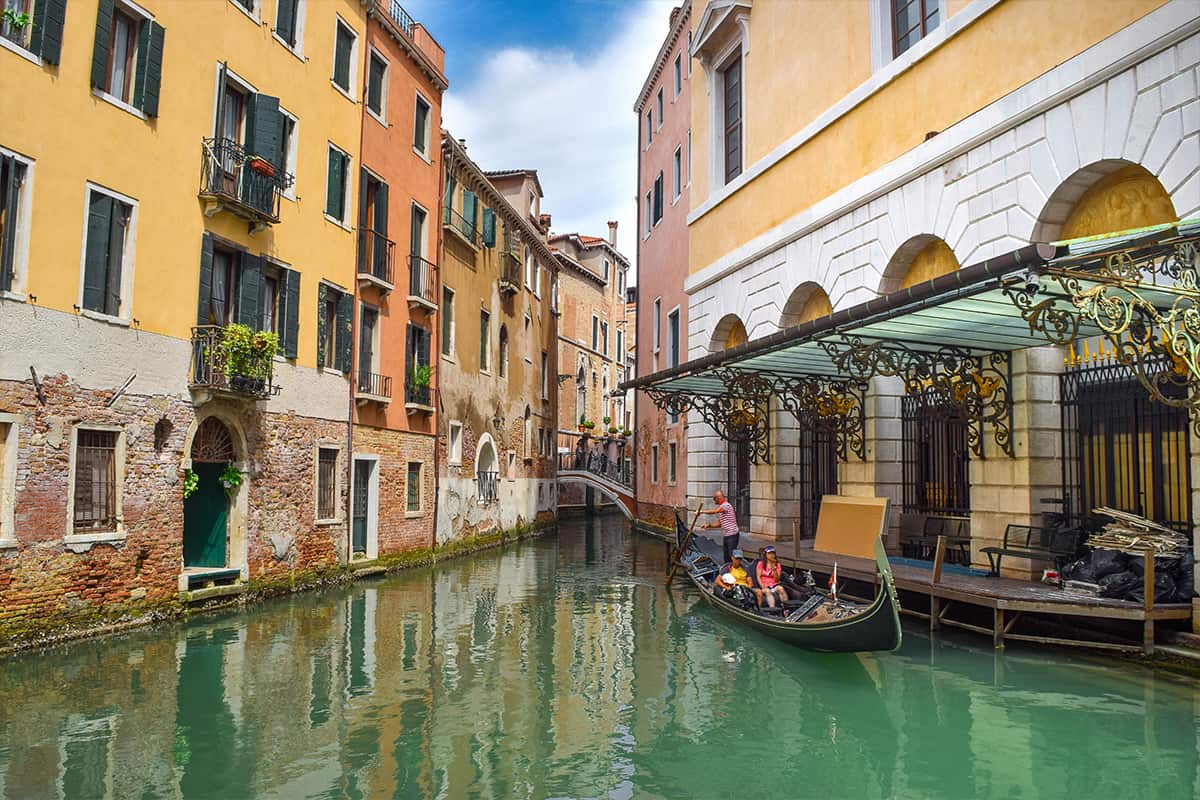 Castello di Vicarello, Tuscany
Nestled amidst the rolling hills of Tuscany, Castello di Vicarello is a captivating castle venue that embodies rustic elegance and timeless charm. This enchanting estate offers a fairytale setting for your wedding, with its historic architecture, lush vineyards, and panoramic views of the countryside.
The castle itself is set in 40 hectares or 400,000 square metres of vineyards and olive groves, meaning you can experience incredible intimacy and seclusion with your wedding party.
From exchanging vows in the castle's courtyard to savoring a gourmet feast under the stars, Castello di Vicarello promises an authentic Tuscan wedding experience that will captivate your senses and create lasting memories.
Palazzo Brancaccio, Rome
Palazzo Brancaccio, a magnificent historic palace in the heart of Rome, provides an opulent and romantic backdrop for a truly unforgettable wedding. Its stunning frescoed ceilings, grand staircase, and lush gardens transport you to a bygone era of Italian elegance.
The venue is set within one of the most historic parts of Rome, close to the Colosseum and the basilicas of San Giovanni and Santa Maria Maggiore. With options for indoor and outdoor settings features, you are spoilt for choice for options on how to tie the knot.
With its exquisite architectural details and sumptuous interiors, Palazzo Brancaccio offers a refined and glamorous setting for couples who desire a wedding steeped in luxury and sophistication.
Borgo Egnazia, Puglia
Borgo Egnazia, located in the picturesque region of Puglia, is an enchanting wedding venue that combines rustic charm with contemporary elegance. This sprawling estate features a traditional Apulian village, stunning seaside views, and a world-class spa, ensuring a truly immersive and unforgettable wedding experience.
Whether you choose to say "I do" in the romantic olive groves or celebrate in one of the elegant ballrooms, Borgo Egnazia offers a perfect blend of sophistication and authenticity.
Reschio Estate, Umbria
Nestled in the scenic Umbrian countryside, Reschio Estate offers a secluded and idyllic setting for a romantic wedding. This private estate spans over 3,700 acres and features beautifully restored farmhouses, a medieval castle, and pristine natural landscapes.
Dating back to 1050, the stunning venue will transport you back in time whilst still boasting fantastic modern facilities. For relaxing before and after the wedding there is an outdoor swimming pool and bathhouse with stunning views of the rural landscape.
Whether you envision an intimate garden ceremony or a grand reception in a historic courtyard, Reschio Estate provides an enchanting and serene backdrop for your special day, creating a truly magical experience for you and your guests.
San Clemente Palace Kempinski, Venice
Located on its own private island in the heart of Venice, San Clemente Palace Kempinski is a luxurious and enchanting wedding venue that combines Venetian charm with modern sophistication.
What could be more romantic than arriving by gondola to your wedding? A 12th century chapel and expansive stately gardens and courtyards give you options for mixing and matching the settings for your big day.
This historic monastery-turned-hotel offers stunning views of the Venetian Lagoon, lush gardens, and elegant interiors. From exchanging vows in the beautiful outdoor terrace to enjoying a gourmet feast in the grand ballroom, San Clemente Palace Kempinski provides an exclusive and unforgettable wedding experience in the magical city of Venice.
5-Star Italian Elegance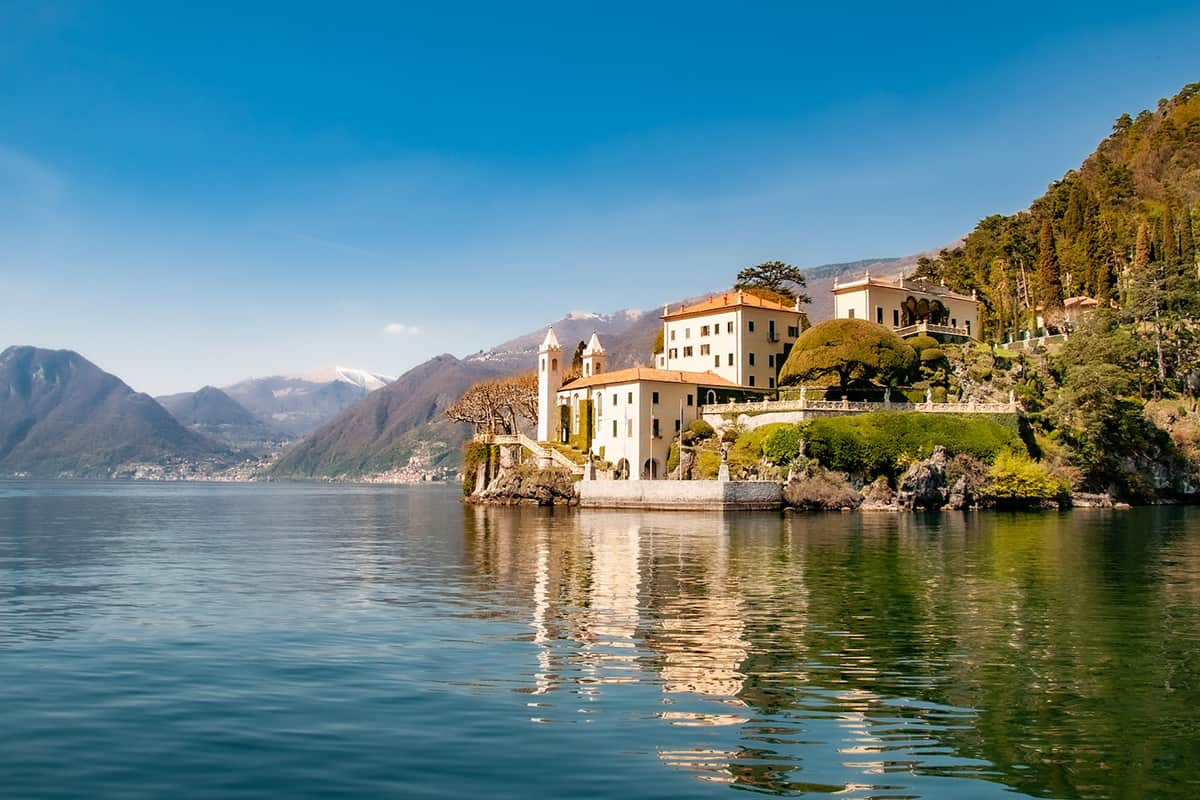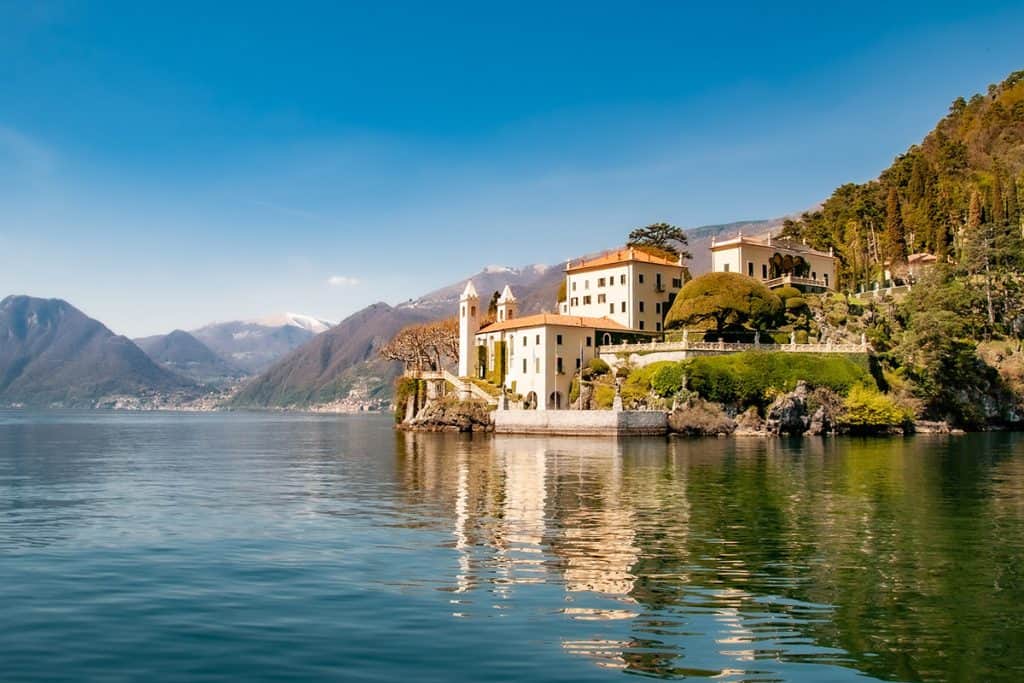 Belmond Hotel Caruso, Ravello
Perched on a cliff overlooking the Amalfi Coast, Belmond Hotel Caruso is an 11th-Century palace that offers breathtaking views and unparalleled elegance. Its historic architecture, lush gardens, and infinity pool create a picturesque setting for your special day.
A serene venue beloved by famous writers and artists over the years, the Hotel is the perfect place to marvel at the beauty of the Amalfi Coastline.
Whether you choose to have a romantic ceremony in the charming gardens or a grand reception in the opulent ballroom, Belmond Hotel Caruso promises an enchanting wedding experience that will leave you and your guests in awe.
Mandarin Oriental, Lake Como
Set on the shores of Lake Como, the Mandarin Oriental offers a perfect blend of natural beauty and refined luxury. This exclusive wedding venue showcases stunning views, elegant interiors, and impeccable service.
Boasting the excellence of the Mandarin Oriental group's hotel knowhow with the splendour of Lake Como, this venue is one of the finest in region.
Whether you envision a lakeside ceremony or a lavish reception in the grand ballroom, the Mandarin Oriental ensures a seamless and unforgettable wedding celebration that will exceed your expectations.
Rosewood Castiglion del Bosco, Tuscany
Nestled in the rolling hills of Tuscany, Rosewood Castiglion del Bosco is a captivating wedding venue that embodies the essence of Italian countryside charm.
This 800-year-old estate features a medieval castle, vineyards, and picturesque gardens, providing a romantic and idyllic setting for your special day. The Rosewood Group have created a venue that retains its authenticity with local and historical furnishings and heritage features.
From intimate ceremonies in the historic chapel to gourmet feasts in the enchanting courtyard, Rosewood Castiglion del Bosco promises an authentic and unforgettable Tuscan wedding experience.
Masseria San Domenico, Puglia
Surrounded by olive groves and the azure waters of the Adriatic Sea, Masseria San Domenico is a romantic wedding venue in Puglia. This former 15th-century fortified farmhouse has been transformed into a stunning retreat, offering elegant interiors, beautiful gardens, and a private beach.
Despite the timeless-looking stark white stone buildings, the venue offers 5-star facilities connected by arched passageways and sunlit piazzas.
Whether you desire an intimate ceremony in the olive garden or a grand reception in the opulent ballroom, Masseria San Domenico provides a serene and unforgettable backdrop for your wedding celebration.
Belmond Villa San Michele, Florence
Nestled on a hilltop overlooking Florence, Belmond Villa San Michele is a historic and elegant wedding venue that captures the essence of Renaissance splendor.
The villa's lush gardens, panoramic views of the city, and magnificent architecture create an enchanting setting for your special day. The venue has great artists at its heart with the exterior designed by the School of Michelangelo and the surrounding woodlands the placewhere Leonardo Da Vinci first attempted to fly.
Whether you choose to exchange vows in the romantic terrace or celebrate in the opulent loggia, Belmond Villa San Michele offers an exclusive and sophisticated wedding experience that perfectly blends luxury and artistry.
Not Sure Which Luxury Wedding Venue in Italy is For You? We Can Help!
Matthew Oliver Weddings are luxury wedding planners with an extensive knowledge of the best venues, suppliers and experiences to make your special day truly unforgettable. We love planning weddings in Italy, but we plan special events all over the world.
If you're stuck with your wedding planning, get in touch with our friendly team today – we'd love to chat through your ideas and create your dream wedding!