Flowers have graced wedding celebrations across cultures for centuries, embodying symbolism, elegance, and natural beauty. From Ancient Egyptian rituals to modern-day weddings, florals have symbolised luck, happiness, and new beginnings. In today's world, they remain a cornerstone of wedding décor, making the selection of the perfect blooms a significant and exciting endeavour.
Check out our guide below to help you choose the perfect wedding flowers that will make your unforgettable day special..
1. Create a Floral Budget
Begin your floral journey by establishing a realistic budget. The amount you allocate will guide the types and quantity of flowers you choose. The average cost of a bridal party, including the bride, bridesmaids, groomsmen, and buttonholes, is around £500-£600. Your budget will also help determine how much floral influence you want throughout your celebration. Prioritise where you'd like to allocate your floral funds – perhaps focusing on statement pieces like a floral arch or bridal bouquet.
2. Hire a Wedding Florist
While the DIY spirit is admirable, entrusting your florals to a professional florist can make a world of difference. A seasoned florist not only brings expertise but also eliminates stress, ensuring your vision comes to life seamlessly. When hiring a florist, book in advance to secure their availability. Research their portfolio to confirm their ability to achieve your desired look. Describe your wedding's theme, colour palette, attire, and venue to provide the florist with a comprehensive understanding of your vision.
3. Get a Crash Course in Florals
You don't need to be a botanist to choose your wedding flowers, but a basic understanding can go a long way. You can help your florist understand your preferences by knowing flower types, colours, and seasonal availability. To streamline the selection process, familiarise yourself with popular wedding flowers and current trends.
4. Gather a Floral Inspiration
Gather inspiration from various sources – online platforms, magazines, movies – to create mood boards that reflect your personality and style. By doing so, you'll discover your likes and dislikes, and you'll be better equipped to guide your florist's creativity. Remember, it's important to be aspirational yet grounded; aim for a balance between your dream florals and what's achievable within your budget and timeframe.
5. Consider the Seasons
When choosing flowers for your wedding, think about what is in season at the time. Not only does this align with nature's rhythm, but it also offers practical benefits. Seasonal flowers are more cost-effective and readily available. Also, plan according to the time of year: spring blooms like peonies and tulips, summer favourites like roses and orchids, autumn treasures like chrysanthemums and sunflowers, and winter delights like paperwhites and poinsettias.
6. Harmonise the Blooms
You can integrate your wedding colour palette into your floral choices for a harmonious look. You can replicate, match, complement, or accentuate your colour scheme through your blooms. Stick to flowers that naturally come in your chosen colours. Roses, tulips, hydrangeas, and more offer an array of options for different colour palettes. Remember, your florals can enhance your wedding's overall aesthetic and evoke specific emotions.
7. Guid Your Floral Vision
Prepare a list of descriptive words that best describe your wedding's vibe and theme. Your florist can use these words as a guide in finding flowers that embody your desired atmosphere. Whether it's a glamorous, bohemian, beachy, rustic, or modern feel you're after, your florist can tailor their choices based on your unique descriptors.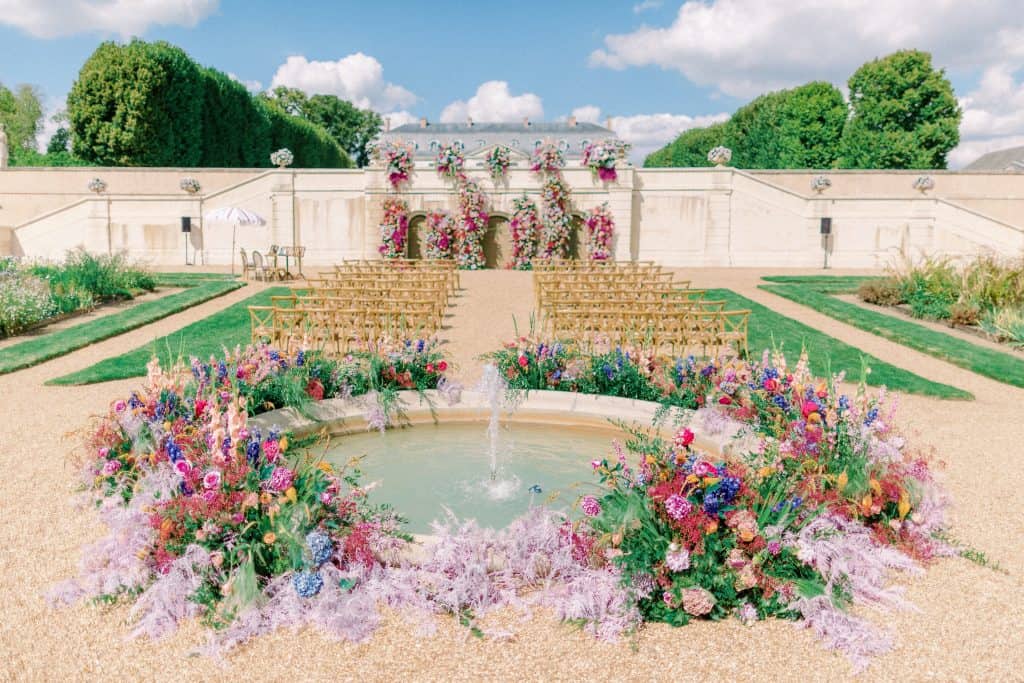 8. Utilise Fragrant Blooms
While visuals take centre stage, don't underestimate the power of fragrance. Your choice of flowers' scents can set the tone and create a memorable experience for your guests. Lavender exudes calmness, while hydrangeas offer a strong and sweet aroma. Integrating fragrant flowers can enhance your wedding's ambiance and create lasting sensory memories.
9. Place Strategically
Make sure you plan where your flowers will be set up. The placement of everything from the bridal bouquet to the ceremony arches, centrepieces to aisle decorations adds depth to your wedding's design. When your florist knows where you want flowers placed, they can create arrangements that suit each location in the most seamless manner.
Selecting your wedding florals is a delightful journey that aligns your vision with the beauty of nature. With this guide in hand, you're ready to embark on a blooming adventure that transforms your wedding into an unforgettable masterpiece.
Get in touch with high-end wedding planners Matthew Oliver Weddings today to help make your dream wedding a reality.